Information Bank
Information Bank
Erica Mena
Erica Mena is a Puerto Rican poet, translator, and book artist. They hold an MFA in poetry from Brown University, an MFA in literary translation from the University of Iowa, and an M.Phil in Criticism and Culture from the University of Cambridge. Their book Featherbone (Ricochet Editions, 2015) won a 2016 Hoffer First Horizons Award. Their translation of the Argentine graphic novel The Eternaut by H.G. Oesterheld and F. Solano Lopez (Fantagraphics, 2015) won a 2016 Eisner Award. Their artist books are collected widely. Most recently they created the artist books Puerto Rico en mi corazón, a collection of letterpress printed broadsides by Puerto Rican poets in response to Hurricane Maria, printed in Spanish and English; and Gringo Death Coloring Book by Raquel Salas Rivera with collaborator Mariana Ramos Ortiz. They have taught Book Arts, Translation, and Poetry at Brown University, Mills College, Harvard University, and elsewhere. They currently live in Fiskars, Finland.
Visual arts
Other visual arts •
Special groups
Disabled • Multicultural / diversity • LGTB •
Other culture
Literature / poetry •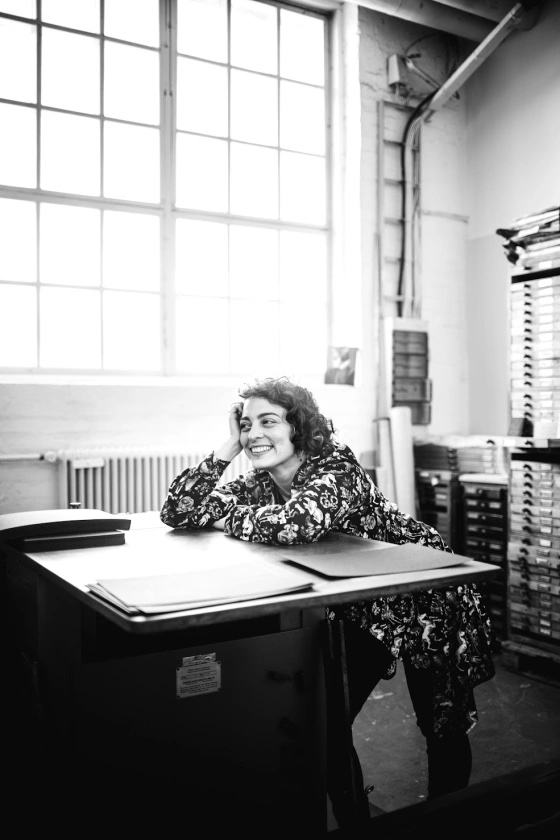 Erica, a white person with short curly hair, leans over their letterpress smiling.
Region
Uusimaa (other than capital city area) •
Communication language
English •
Other links